2014 Year End Awards Banquet
By Bren Wamsley

Register Now!! The 2014 Year-End Awards Banquet is fast approaching. It's a great time to celebrate the year's events and to commiserate with your racing family. Most of the evening is celebrating YOU!

We will be returning to Valley River Inn Saturday evening, November 8th 6:00 pm. It will be buffet style and entertainment provided. Informational and registration forms were included in the August newsletter and will also be included in the October newsletter. You can register on-line which is the preferred method. There will be a number of prizes including a $50.00 cash door prize. Register early to avoid a late registration fee of $5.00 per person.

Valley River Inn is happy to extend a rate of $73.00 per night to the Emerald Empire Sports Car Club Holiday party attendees for a deluxe guestroom. To take advantage of this special rate, call the Valley River Inn reservations line at
1-800-543-8266 and ask for the "Holiday Party Rate".
It's the best time you'll have not behind the wheel. ? Look forward to seeing you there.
READY ... SET ... DOH!!
By Dave Arata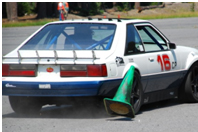 Not even laying the start cone to rest at the very beginning of a run more often than I care to admit could deter me from a weekend of pure fun and entertainment. I don't attend autocross events as much as I like or I should, and events like these remind me to rethink my truancy. I regularly find excuses to dodge events, sighting I don't have the time, the car isn't prepared or I find the cost vs. seat time disappointing. The truth is, I'm a guy, I have a fast car and I never come in 1st. There, I said it.

I come from a road racing background and I presumed dodging cones in a parking lot to be elementary, checkers to my chess. These guys are beginners and I had years of experience driving fast cars.well, fast. I was accustomed to sharing renowned tracks with Ferraris, Porsches, Shelbys, etc. What right does a Prius, Cadillac or hybrid econobox have showing up at an autocross? As if! I'm far too good for this rubbish. I made sure to leave room in my helmet for my pretension. Wave the green flag already and let me show these dilettantes how it's done.

Wrong mister, and boy did I miss the mark. Allow me to list the ways in which I did. First, these guys and gals are good, really good! This particular group, the Emerald Empire Sports Car Club, based out of Eugene, OR understands what it takes to host a successful autocross event having done so for many years, including hill climbs. The club is comprised of ardent and diversified gear heads from the experienced who show the kind of car control I can only dream about to the unquestionable novice, mowing over cones with unabashed impunity. Second, I have used the wrong formula entirely to calculate value. Comparing dollars spent to seat time is akin to putting Ray Charles in the bombardier's seat in a WWII B-17, he's going to miss. What counts most here is the people. That's what can't be factored into the equation because their value is immeasurable. In all my years of road racing, I've never met an entire group with the caliber of character I've seen in the EESCC. They have the talent, knowledge, humor and hospitality that no amount of money can buy.

I got creamed on Saturday not only because of better drivers in my class, but also because the course seemed like the moon to me. Things happen fast on course, Jack! I missed gates and crushed cones, much to the entertainment of the crowd and the announcer who felt it necessary to make public that I had the only Mustang in my class, crusading against a sea of Camaros, and I wasn't doing Mr. Henry Ford any favors. No pressure. Sunday, I fared much better placing somewhere in the middle of my class. I had my space goggles on and successfully navigated the course much better most of the day. I've got a lot to learn and I'm certain I've found the best teachers. The CP family know who you are. Thank you EESCC!
Support our Sponsors !!Click on the above link to view
our sponsor's information
and any specials offered