The View From Checkpoint 5
By David Lumbra

Going to Larison Rock is like visiting an old friend to me. It is, in a way, just because I have been going up that hill since 1988. I know it pretty well. I didn't have a car ready to drive this year and decided to take pics all day Saturday. Photography is another one of my passions.

I arrived at 6:00 am to gather the equipment and set up the hill. Thank you Mike Mullikin and Matt Boatman for helping me out. The hill was in good shape and the ever growing fir trees continue to shade the pavement. At turn 11, it is a challenge to shoot, as the sun comes and goes all day. A car could be in full sun coming out of turn ten, only to disappear in deep shade at the apex to 11. Kept me on my toes trying to adapt.

As usual, there were many different lines used by the drivers exiting 10, setting up for 11 and finally disappearing around 12. My vantage point is one of the few on the hill where I can not only see a car through two plus turns, but I get to see them coming straight at me, turning directly in front of me and getting a view of them going up the chute between 11 and 12. I have tried shooting from the work truck and it is tough! Cars pass by you between 60 and 90 mph and you are darn lucky to get the whole car in the frame as you try to pan them scooting past.

The three way battle for Queen was a blast to watch. The three women had completely different cars and somehow managed to stay within a second or so of each other. I love a good battle like that. Family obligations kept me from returning on Sunday to witness a
similar battle for King of the Hill. That one was even closer, at the end!

I was standing in the trees about 50 feet uphill from checkpoint 5, which is manned by Mark and Rose Reinertson. For fun, we try and guess what times some of the faster drivers will get at finish. We each yell out a number and wait for the time to be announced over the radio. Surprisingly, we have come very close to hitting it right on. Sometimes we miss by a lot. Well, after seeing several hundred runs over the years, we do have a pretty good clue. It helps pass the time as does swatting mosquitoes.

There are also audible sounds that are music to my ears. Cars like Harry Cadell's Porsche, with its exhaust reverberating off the trees is amazing to hear. I do miss the days of all the Formula Continental cars' exhaust notes up there echoing off the mountain. Good memories, for sure. The day that all the entrants drive Prius' will be a sad one. I might have to pipe in F1 sound tracks, so it still feels like racing.

It was fun seeing old familiar faces, new ones and some different cars I hadn't run across before. Congrats to the King and Queen. Well done, both of you. Congrats also to the new class champs and all the new members of the elite Under Two Minute Club.

Thanks to Bonnie and Jim Mueller for pulling it all together once again. A special thanks to all the volunteers without whose help we just couldn't pull off such a successful event. Until next year, stay safe.
READY ... SET ... DOH!!
By Dave Arata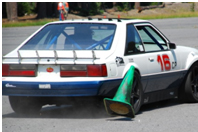 Not even laying the start cone to rest at the very beginning of a run more often than I care to admit could deter me from a weekend of pure fun and entertainment. I don't attend autocross events as much as I like or I should, and events like these remind me to rethink my truancy. I regularly find excuses to dodge events, sighting I don't have the time, the car isn't prepared or I find the cost vs. seat time disappointing. The truth is, I'm a guy, I have a fast car and I never come in 1st. There, I said it.

I come from a road racing background and I presumed dodging cones in a parking lot to be elementary, checkers to my chess. These guys are beginners and I had years of experience driving fast cars.well, fast. I was accustomed to sharing renowned tracks with Ferraris, Porsches, Shelbys, etc. What right does a Prius, Cadillac or hybrid econobox have showing up at an autocross? As if! I'm far too good for this rubbish. I made sure to leave room in my helmet for my pretension. Wave the green flag already and let me show these dilettantes how it's done.

Wrong mister, and boy did I miss the mark. Allow me to list the ways in which I did. First, these guys and gals are good, really good! This particular group, the Emerald Empire Sports Car Club, based out of Eugene, OR understands what it takes to host a successful autocross event having done so for many years, including hill climbs. The club is comprised of ardent and diversified gear heads from the experienced who show the kind of car control I can only dream about to the unquestionable novice, mowing over cones with unabashed impunity. Second, I have used the wrong formula entirely to calculate value. Comparing dollars spent to seat time is akin to putting Ray Charles in the bombardier's seat in a WWII B-17, he's going to miss. What counts most here is the people. That's what can't be factored into the equation because their value is immeasurable. In all my years of road racing, I've never met an entire group with the caliber of character I've seen in the EESCC. They have the talent, knowledge, humor and hospitality that no amount of money can buy.

I got creamed on Saturday not only because of better drivers in my class, but also because the course seemed like the moon to me. Things happen fast on course, Jack! I missed gates and crushed cones, much to the entertainment of the crowd and the announcer who felt it necessary to make public that I had the only Mustang in my class, crusading against a sea of Camaros, and I wasn't doing Mr. Henry Ford any favors. No pressure. Sunday, I fared much better placing somewhere in the middle of my class. I had my space goggles on and successfully navigated the course much better most of the day. I've got a lot to learn and I'm certain I've found the best teachers. The CP family know who you are. Thank you EESCC!
Support our Sponsors !!Click on the above link to view
our sponsor's information
and any specials offered