Corner Weighing Your Car*
By Tony Chilton

The club has scales. Use them to make your car's handling better and more predictable. The only thing that connects your car to the track is the tires. A tire's grip is dependent on the vertical force exerted on the tire and the coefficient of friction between the racing surface and the tires' contact patch. Uneven weight distribution causes some tires to work too hard and others to not work hard enough, an over all loss of traction.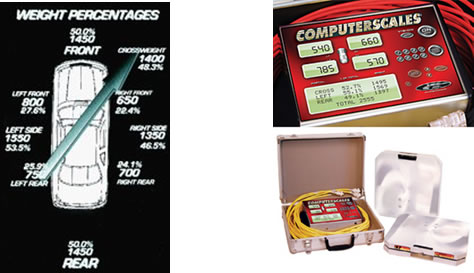 Static weight distribution is the weight resting on each tire's contact patch with the car at rest, exactly the way it will be raced. You need two percentages to analyse weight distribution. Use left weight percentage and rear weight percentage. Right weight percentage is 100% minus left weight percentage and front weight percentage is 100% minus rear weight percentage.

The only way to change the static weight distribution percentages is to physically move weight around in the car. Jacking weight will not alter the left side or the rear percentages very much at all. You hope to approach 50% left weight percentage minus equal weights side to side. Rear weight percentage varies with the type of car a Porche will have a high rear weight percentage while a Rabbit will have a low rear weight percentage.

Cross-weight percentage compares the diagonal weight totals to the car's total weight. To calculate cross-weight percentage, add the RF weight to the LR weight and divide the sum by the total weight of the car. Cross-weight is also called wedge: If the percentage is over 50, the car has wedge; if below 50 percent, the car has reverse wedge. One of the problems with cross-weight is that it will change the handling balance from a left to a right turn. This can make maneuvering in traffic difficult, even dangerous. On a road course, the cross-weight percentage should be very close to 50 percent, within a half-percent either way, to keep the handling balance similar in a right-hand turn compared to a left-hand turn.(This whole paragraph stolen from Grassroots Motorsports)

To set up your garage to weigh your car you'll only need a few things.

. Go buy some cheap vinyl flooring squares. You'll need at least two for each wheel and more if the floor is not level.
. A level
. A straight edge as long as your car's wheelbase
. To be more exact, include a friend or other dead weight to mimic driver's weight.

*Much of this information is taken from the Grassroots Motorsports article "Understanding Corner Weight"

Put your car where you want to weigh it and mark the floor where each contact patch is. Put it up on jackstands. For each wheel take two vinyl squares, put a light coat of oil or light grease on the shiny side of one, and then put two down on each contact patch - oily shiny side to shiny side. These are you poor man's slide plates. Use the straight edge and level to check level both front to back and side to side. Add squares as needed to make the four spots level. You can use other things like plywood but the vinyl works well on relatively smooth concrete.

Put a scale pad down on each stack of vinyl with the electrical connection pointing outward. Put your car down on on the scales and connect up the control unit. Push on the corners of your car to make sure it settled on the spring perches. The slide plates facilitate this by allowing the tire to move laterally as the suspension is moved. Set tire pressures and double check ride height.

Remember to change left or rear weight percentages you have to move weight physically around in the car. To change cross weight change a corners ride height. If you raise the ride height at a given corner (put a turn in or add a round of wedge), the weight on that corner will increase, as will the weight on the diagonally opposite corner. The other two corners will lose weight. Make small changes to achieve 50% cross weight without overly disturbing ride height. Recheck ride height. If it's now way off, you may need to compromise on cross weight.

Thunderbird 2017
By Simon Levear

It was the first weekend of February 2017, Eugene had seen snow and freezing rain a few weeks before and Portland still had snow and communities near the Columbia Gorge were a sheet of ice. Somehow it made sense to drive over 500 miles North to Merritt, British Columbia for the Thunderbird Rally.
The Mitsubishi was still having issues so I borrowed a vehicle from some friends for the event. This wasn't just any old car, this was a turbo charged all wheel drive BMW 325ix formerly owned by Satch Carlson and known as "Bad Dog." This car is ideally suited for the event. It happens that the car is now for sale with more information here: http://bringatrailer.com/listing/1988-bmw-325ix-2/
I left Eugene at about 6am on Friday and started the trek North. First I stopped in Portland to collect Bad Dog and was a little concerned about getting where I needed to go as I had not brought chains. It turned out not to be an issue. The greater challenge was walking up my friends driveway in the ice. Once I picked up the bimmer, shod with a brand new set of Hakkapelita 7s, there was little need to worry about getting around town.
My navigator lives in Gresham that, sitting at the end of the Columbia Gorge, was a sheet of ice and I passed a handful of cars in ditches, including a furniture van that was completely blocking the route. Fortunately a few detours got me to his place and we loaded supplies and headed North. Once North of Vancouver the snow and ice were gone and we continued the long haul thru Washington State. Turning off the freeway in Bellingham we soon found snow covered roads as we made our way to the border crossing at Sumas. A quick stop at the duty free and then into Canada. After a few more hours of dark driving we arrived in Merrit where we enjoyed the two for one steak special at the Grand Pub and Grill.
First Car out was 11am Saturday morning and we headed out. The first stage was familiar, as we had run this stage in prior years. Before it was usually a mix of gravel sections and snow covered roads. This year, it was fully snow covered easily 6 to 8 inches deep. We started the stage 20 hundredths early, but were soon running late. Despite the horsepower the car had, I just couldn't get the time back. We took a "fault time dec" on stage one, which cost us 20 points but we took only 7 points on that stage. The day continued with more stages ranging from deepish snow, to plowed smooth, but slick stages. The final stage of the day was run in the dark and included a tiny deeply snow covered track thru the forest. We originally missed the turn on to this track and lost time reversing to make the turn, then the engine stalled and we lost more time getting it started again. Another "fault time dec" and some spirited driving in what was probably the most challenging driving of the event, and we had a sigh of relief when we completed that stage. We ended up using three time decs and were pleasantly surprised to find ourselves in third place at the end of Saturday with a score of 65 points.
To get a sense of what this was like, there's a video at this link https://app.box.com/s/y074nmeoa6g77o0mbo26lwaiphv3t52y
More snowy stages on Sunday but fortunately no more time decs, and the event finished with us maintaining our third place position with a total score of 119. Then started the long haul back home. Crossing the border in Sumas we encountered blowing snow and white out conditions that had us crawling along and 10 mph. Fortunately that only lasted a few miles and the rest of the drive home was uneventful.
While nowhere near as wide as the Thunderbird rally, Emerald Empire Sports Car Club is putting on Revival Rally II on May 13th. Prior to the event there will be a Rally School to introduce folks to the basic rules and procedures the rally will use. If you haven't done a TSD rally before, you are encouraged to attend.
If you do come to the event, I'd recommend you bring a time piece that you can set, that has seconds. Also useful is a clipboard, pencils, pens, and highlighters. Make sure your vehicle is ready to go with a full tank of gas.
The event starts with the Novice Rally School at 12:30, and registration starts at 1pm, both at the Bob Keefer Center for Sports and Recreation (250 S 32nd Springfield, OR). There will be a contestant's meeting at 1:45 with the first car starting at 2:01. The driving portion of the event will end around 5pm with awards presented around 6pm.
I look forward to seeing you at the event. If you have any questions feel free to email me at RallyChairman@eescc.org.